WKSU Legacy Gift Keeps Window on the World Open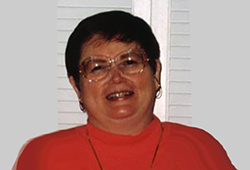 The fact that Richard III's remains were recently found in England would have been a complete delight to Sondra Constant. A brilliant student and a life-long member of MENSA, Sondra was an avid Anglophile who loved both Latin and British history.

Her friend since college, Laura Gorretta, speaks fondly of "Sonie," who sadly passed away at the age of just 62. "She was a unique and gifted woman," says Laura, "who kept her love of all things English throughout her too brief life. She traveled to England several times until a degenerative illness precluded travel. When she could no longer physically travel, she traveled through the English histories and mysteries she loved. She was always cheerful, with an easy laugh and a positive outlook in the face of her diminishing abilities."

After Sondra became housebound due to her illness, WKSU's classical music and NPR programs (CarTalk, in particular) gave her great joy.

What also gave her joy was including her favorite educational and cultural organizations in her estate plan. Her gift to WKSU was directed to programming, to ensure that future WKSU listeners would be able to enjoy thoughtful and insightful content, even in restricted circumstances such as her own.

Sondra's bequest to WKSU benefits many thousands of people throughout the station's listening area. "Sondra Constant's generosity was extraordinary," says Dan Skinner, executive director of WKSU. "She valued the power of public radio to provide a window on the world that exposes listeners to arts, culture, information and sometimes a humorous take on life. Her support for programming on WKSU is a testament to her spirit and her desire to enrich people's lives."

If you'd like to learn how you can make a bequest to WKSU, contact the Center for Gift and Estate Planning at 330-672-1000, or email giftplan@kent.edu.