Legacies Change Lives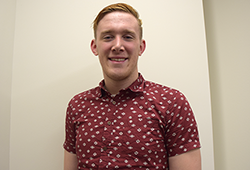 Zachary Downes was having a temporary low spot in his college career. After three years of hard work majoring in broadcast journalism, he was short of both mental energy and cash. Then he got a call that he had won the Dr. Richard M. Uray Broadcasting Scholarship and everything changed.
Dr. Uray's gift, an endowed scholarship included in his estate, allowed the School of Journalism and Mass Communication to acknowledge Zach's work by covering the cost of his credit hours as well as some of his living expenses at a time when things were very tight. "It helped me more than I thought it would because it paid for my tuition and helped with basics like books and food," Zach says. "Without it I would have been struggling badly."
Zach was working two on-campus jobs at the time just to squeak by. "For someone to leave money to someone they don't even know would have to mean the donor had a passion for that field. Dr. Uray must have really loved broadcasting. He wanted me to be able to experience his passion for it. And his gift really changed my outlook. Someone thought my work was good enough to get this award, and I'm really grateful."
If you'd like to make a difference in the life of someone like Zach with a provision in your estate plan, call us at 330-672-1000 to learn how.