A Gift That Honors the Impact of Education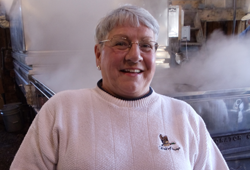 Kent State supporters have many reasons behind their charitable contributions, but one of the most common is to honor a loved one's experience here.

Agnes Sojka Sperry never enrolled at Kent State - but her three brothers and sister did. Brother Yaro, known to friends and family as Butch, was especially transformed by his education; a College of Education, Health and Human Services program directly led to his spending seven years teaching in South America.

But Kent State had an indirect effect on Aggie, as she's known to her friends, as well. She first traveled abroad to visit her brother during his time in Colombia. Following that trip (and perhaps inspired by it), she, along with her late husband, Mark, traveled around the world every year for the next two decades.

After 49 years in the real estate title industry, Aggie recently retired - although golf and her thriving Geauga County maple syrup business keep her busy. (This year, she and her associates will tap 3,000 trees to produce 800 gallons.) And as she's developed her estate plans, Aggie has included Kent State.

Her trust will endow a scholarship for teachers at her siblings' alma mater that rewards students not based on need or academic performance - rather, it will be for those students "in the middle," who often are overlooked.

And it will be named in her late brother's memory. "It's because of Butch, because his education opened doors and windows, and I really attribute that to Kent State," she says. "It really made his life exciting."