Her Gifts Keep the Music Coming at WKSU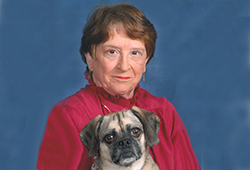 Sandie Kramer and "Puggsie"
Lovers of classical music and all other things NPR will find a friend in Sandie Kramer. The retired social studies teacher and long-time volunteer at WKSU turned her passion for the station's programming and outreach programs into two legacy gifts that will touch many other lives in the future.
"I volunteered at WKSU because I love classical music and enjoyed working on many of their initiatives such as the hunger drive," says Sandie. Her first very generous bequest, made through her estate plans, was for the Sandra Frerichs Kramer Endowment for Classical Music on WKSU-FM. This program fund will maintain and enhance all aspects of classical music at the station.
A few years after Sandie's first gift, she heard about the station's need for a student intern in the programming area. So she decided to make another planned gift – the Sandra Kramer Scholarship – which will benefit a Kent State senior majoring in broadcast journalism. The scholarship gives preference to students who have volunteered in the programming area at WKSU and covers any costs involved in their education including tuition, room and board and books.
And just last year, because Kent State has become dear to her heart, Sandie endowed a second scholarship for a female student attending Kent State University at Stark who is studying education.
Because of her dynamic energy, enthusiasm and support for both WKSU and Kent State students via her bequests, Sandie has been inducted into the Herrick Society, Kent State's giving society. Her lasting legacy will ensure that quality programming at WKSU, as well as quality student education at Kent State, will continue for a long time.
If you'd like to learn how you can make a bequest to WKSU or support a student scholarship, contact the Center for Gift and Estate Planning at 330-672-1000, or email giftplan@kent.edu.