His Charitable Trust Gifts the MPA Program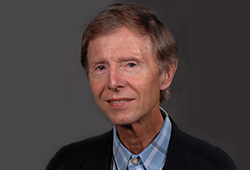 Dr. James B. Tinnin, founding director of the
Center for Public Administration and Public Policy,
and emeritus professor of Political Science.
When Jim Tinnin came to Kent State in 1978 from Michigan, he only planned to be here for two years to complete a federal grant project. Instead, he found a home and a 27-year career in public administration and public policy that was so rich and rewarding, he felt a strong desire to ensure that the program he helped create will continue long into the future.
A friend from the Kent State University Foundation suggested that Jim make a gift. He was working with several local governments and non-profits providing training and technical assistance internships. The friend mentioned it was a nice legacy and would be good to continue if he could. Jim agreed.
"It's important to me to give back because I had such a good experience at Kent State," says Jim. "I have a revocable living trust currently that will convert to a charitable trust after I pass. Every year it will spin off a certain amount of money for the university."
Jim's gift will support the Master's of Public Administration Program by establishing and staffing a Service Learning Center. Jim explains that both MPA students and faculty will benefit from the program. "Students will have opportunities to experience practical applications of their graduate study, which is an integral part of the master's program in public administration. It will also benefit faculty members as they get more involved with service learning (basically internships), providing support to students and local governments. Even the public agency or non-profit that employs the student will benefit," he says.
Although he's been technically retired since 2005, Jim still keeps his hand in by helping the center's staff with the Ohio Municipal Clerks training program. "It was a fun, interesting career for me," he says. "I'm glad I can leave something positive behind since I had such a good experience there myself."
You can make a difference in the future of Kent State students and faculty as well with a provision in your estate plan. Visit kentstatelegacy.org or call 330-672-1000 to learn how your deferred gift can help future students.