Legacies Change Lives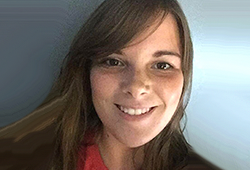 East Liverpool campus student, Brittany Caldwell
Even though he passed away in 2011, Brittany Caldwell, a sophomore at the East Liverpool campus, feels like she knows Gus Markanton well. "I know he owned Gus's Party Center and was full of encouraging words to people who wanted to continue their education," she says. "I really wish I could have met him -- and tried one of his sandwiches!"
Brittany is one of the recipients of Mr. Markanton's scholarship endowment for East Liverpool students, allowing those who might not otherwise have had the opportunity to earn a degree.
"Mr. Markanton's gift not only helped me, but my family as well," says Brittany, who is studying to be an occupational therapy assistant. "I have a twin sister who's also in college, and a younger brother in high school. So as you can imagine my parents are quite busy. It was a relief to be financially stable when it came time to buy books and pay bills. Having the burden of 'How am I going to afford all of this' lifted off my shoulders has really made a difference in my college experience."
Brittany also understands the importance of giving back. "For young people to get the confidence to even go to college in the first place is huge. When a student receives a scholarship, even just one, it can change their whole outlook on college and wanting to do well. It gives them financial help, motivation and encouragement. We need more people like Gus Markanton. There are a lot of students in the area who don't come from a lot, but are so intelligent. I am very blessed to be one of the recipients of his generosity."
If you'd like to make a difference in the life of someone like Brittany through a provision in your estate plan, call us at 330-672-1000 to learn how.