A Quiet Life, Accentuated by a Passion for Education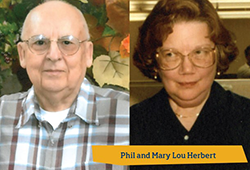 Phil and Mary Lou Herbert were like many couples who grew up in Ashtabula after World War II. They met in high school, got married after Phil served in the Korean War, bought a house and went to work to build their dream - Phil as a chemist at General Tire (GenCorp) and Mary Lou an office manager for the Illuminating Company.
According to their friend and estate planner of more than 30 years, Stuart Cordell, they lived a quiet life, and were extremely devoted to each other. "Neither of them had a college degree," he says, "But they both believed that education was vitally important, and wanted to help students in Ashtabula County."
Phil had taken classes at the Ashtabula Campus in chemistry after the war, and was very grateful to the university for all of the help he received in his career. The couple had no children, so they asked Mr. Cordell set up a trust that left half of their estate to a local charity and the other half to Kent State for the Phillip C. and Mary Lou Herbert Scholarship.
"They wanted to help area kids get further training beyond high school, especially in science-based careers, and wanted a local focus for their gift," says Cordell. "The Herbert scholarship benefits county residents who pursue degrees in physical and respiratory therapy, radiologic technology and nursing programs as well as those studying chemistry or biology."
The Herbert's travelled extensively around the country in their lifetime. After Mary Lou passed away in 2007, Phil sold the house they had lived in for more than 50 years and moved into assisted living. Says Cordell, "When I visited him, Phil always mentioned how much he missed her. He was a mild-mannered gentleman who idolized his wife. They both came from nothing, and even paid for their own wedding. They were savers and investors, paid off their house, and were debt-free early. They had a very comfortable life, and it was important to them that they help others with what they had built over the years."
Phil passed away earlier this year, but he and Mary Lou both recognized the significant role that Kent State at Ashtabula plays in the community and gave their support to it wholeheartedly. Countless others will benefit as a result of their generous legacy.
If you'd like to learn how to create a bequest to support a program or scholarship at Kent State, contact the Center for Gift and Estate Planning at 330-672-1000, or email us at giftplan@kent.edu.