Herrick Society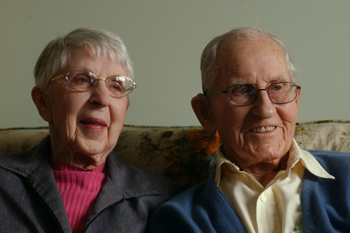 The Herrick Society membership is reserved exclusively for alumni, emeriti, friends and WKSU listeners who have included the Kent State University Foundation in their estate plans. Named for the late Dr. Art and Margaret Herrick, beloved emeriti faculty and donors of the first major irrevocable planned gift to Kent State, the Herrick Society recognizes the importance of long-range gifts in ensuring the future of this institution.
"Planned giving made it possible for us to use our resources during our lifetime and to create a legacy for Kent State students."— Art and Margaret Herrick, 2007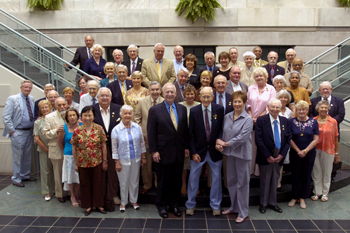 Members of the Herrick Society pose with President and Mrs. Lester Lefton and Dr. Art Herrick during the first recognition luncheon in August 2007.
The Herrick Society extends membership to donors who make any size bequest or long-range gift. Whether made through will commitments, life income gifts, charitable trusts, life insurance, retirement plans or other arrangements, long-range gifts are essential to the continued growth of Kent State.
Dr. and Mrs. Herrick passed away in 2008 (Art at age 100 and Margaret at age 89), but their legacy is preserved through their gift planning.
If you are currently a member of the Herrick Society, we thank you again for your generosity. If you have included Kent State University or WKSU in your estate plan and wish to be recognized as a member of the Herrick Society, please Contact Us or view our Planned Giving Estate Intention Letter PDF to specify your estate gift. The next Herrick Society Luncheon is August 2, 2019.