Martin and Susan Goetz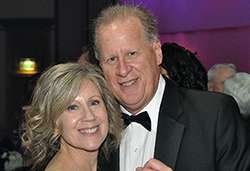 It was love at first sight for Marty Goetz. The 18-year-old Long Island native and recent high school graduate was simply visiting a friend who attended Kent State when the campus worked its magic on him. He was hooked — and enrolled in fall of 1969.

One of his first college instructors, Betsy Hoobler, also made an impression on Marty. In addition to seeing him through his grammatically challenged freshman year in English, she became a lifelong friend. "She was a passionate educator," Marty says. "There was never a time when she was in front of the class that it wasn't clear that she loved what she was doing and the impact she was having on students. So I stayed in touch with her. We're Facebook friends to this day."

To help honor Hoobler, Andra Polasky, director of planned giving, assisted Marty in creating a legacy gift that expressed how much the university played a defining role in his life. Marty and his wife, Susan, have made a bequest to the Atkinson-Hoobler Scholarship Fund that supports student (peer) tutors at the Trumbull Campus.

Marty Goetz's love for Kent State and for the importance of access to an excellent public education runs deep. "College at the undergrad level is a transformative experience. Nothing else in my life touched me as profoundly as the time I spent there," he says. "Public universities like Kent State play a crucial role in ensuring the continuation of our democracy. It's not the Harvards of the world, it's the Kent States of the world that turn out the next generations of community leaders and activists — the folks who actually get work done."

Goetz also feels strongly about paying it forward. "It's really important that Kent State graduates not forget the university that helped them — not just professionally in their career but as human beings. We have an obligation, in the ways we're able, to help fund the next generation of young adults to be able to have that experience."

Private support for public education has never been more critical, a point that isn't lost on Marty Goetz. "Ten thousand baby boomers are retiring every day," he says. "There will be the largest transfer of wealth ever over the next 25 or 30 years, and community resources like Kent State need to benefit from that. We need to remember just how important a role the university played in our lives — well beyond the academics. Susan and I are leaving a gift to Kent State because it's the right thing to do, and because it's important that the university continues to be a beacon to students."

To make a gift or create a bequest to support a campaign, program or scholarship at Kent State, contact the Center for Gift and Estate Planning at 330-672-1000, or email us at giftplan@kent.edu.