David and Patricia Grutzmacher Keep the Giving Circle Growing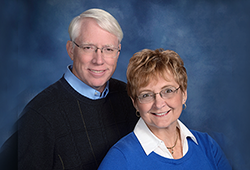 If you've ever been a "band nerd," you have a lot in common with David and Pat Grutzmacher. When the two met in college, they shared a love of music (he played trumpet and she the oboe) and went on to share their lives as well. Today, David is a vice president at a small manufacturing company, and Pat is planning her "official" retirement from Kent State after 38 years in a variety of roles at both the Stark and Kent campuses: first as a graduate student, then as a professor, coordinator of music education, and a developer of degree programs. She and David are also planning their giving legacy by establishing the Patricia and David Grutzmacher Endowed Scholarship for Music Education with a bequest to the university.
To say that Pat is passionate about music education and her time at Kent State is an understatement. "Music education isn't just a career, it's my life," she says, "and that life is all about the students. It isn't like it was when I was a student. Today, there's not only more information to learn, but the time students need to practice and absorb what they learn is compromised by their need to work and pay bills."
David and Pat felt that the best way to gain more academic time for students, and to give back to the university in thanks for a rewarding career, was to leave an endowed scholarship that would support students long into the future. "We've always needed more music education scholarships," says Pat. "When you become a teacher your life isn't going to be about making money, it's going to be about changing lives and passing on your love of music — to keep the circle going around."
The Grutzmachers' legacy includes two children who attended Kent State. Daughter Diana received a degree in zoology and their son, Joe, is finishing his degree in hospitality management while working as a chef.
Pat says that even though they don't have a lot of money for philanthropic gifts, she and David wanted to invest in the future of others in the best way they could. "It's a small gift by some standards, but the amount doesn't matter, the intent does," Pat says. "And who knows, maybe this scholarship will make the difference between a student staying in the program or having to give it up because of financial concerns. Little pieces like our gift really do have an effect on the bigger picture. We hope others are inspired to do the same."
You can leave a bequest to Kent State that will impact the lives of future generations of deserving students. For more information, visit our website at
www.kentstatelegacy.org
.