A Heart for First-Generation Students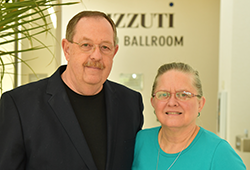 Rick and Jan Krumel
Rick and Janis Krumel remember well what it was like to be the first in their families to attend college. Jan's hard-working parents paid for most of her education. In addition, she worked summers at Ohio Bell and had a National Merit Scholarship. Rick worked for New Jersey Bell to pay for half of his college costs and covered the other half with student loans. "It's hard for families who don't already have college grads in the house," says Jan. "Sometimes the earning power in the home is limited. We wanted to see someone have enough help to make it all the way through school. It's a sad thing when juniors or seniors have to drop out after they've worked that hard to get that far and then have to quit. Our scholarship is for all four years so that they'll keep it the whole time."
The Krumels funded the DeLong-Krumel Family Endowed Scholarship over a five-year period. They're turning their scholarship into four individual Founders Scholarships by adding funds to it through their estate plan's retirement accounts. Says Rick, "Legacy gifts are really easy as far as I'm concerned – once you're gone you can't take it with you! I'm not sure why you don't see more of them. We funded our first gift with stocks, and were able to balance our portfolio while making a significant gift without having to pay capital gains taxes. It helps to have a good tax advisor, wealth advisor and attorney to handle the details," he adds.
Rick says that what motivated them to give was listening to President Warren speak about the future of Kent State. "Every time she communicates the vision of the university we find ourselves on the drive back home saying, ?Are we giving enough?' It's an infectious spirit of enthusiasm in terms of what the future holds for our university." Jan was also impressed with hearing about the president's five-point plan, especially its main priority of putting "students first" and its focus on international programs such as study abroad.
"When your alma mater comes to you seeking financial help for the future it doesn't mean they're asking for cash," Rick says. "They're asking for a portion of your treasure – that's a significant decision that you have to make. There are many ways to give and preserve your wealth and deal with tax issues, especially for portions of your assets that you won't really need any more once you're gone."
The Krumels are also thankful for the guidance they've received from their Advancement Officer at Kent State, Bill Truog. "Bill contacted us to catch us up on what had happened at the university since we had graduated. What he had to say touched both of our hearts and really struck a chord with us in terms of the needs of first-generation students," Jan says. "So if someone comes by or calls you up and offers to talk about Kent State, just say yes!"
If you'd like to learn how to create a bequest to support a campaign, program or scholarship at Kent State, contact the Center for Gift and Estate Planning at 330-672-1000, or email us at giftplan@kent.edu.