Legacies Change Lives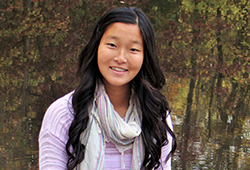 Sarah Mull loves animals. She's a zoology major, and her dream has always been to become a veterinarian. Thanks to the Dr. Harold R. Papiska Scholarship in Biological Science, she's one step closer to making that dream a reality.
Sarah grew up an only child in a single-parent household in a small town in Northwest Ohio. "Finances are very tight at times," she says, "So this scholarship has helped in every way. I've been able to save for veterinary medical school rather than having to use those funds for my undergraduate education. It's hard to put into words how much that means to me."
Sarah's scholarship has enabled her to continue her studies without having to take out any loans. It has also taught her the importance of giving back. "I know how much continuing my education with my scholarship means to me, and I hope to be able to make another student feel this way by giving back myself one day."
If you'd like to make a difference in the life of someone like Sarah with a provision in your estate plan, call us at 330-672-1000 to learn how.