Nancy Baird is "All In" at WKSU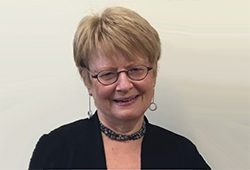 Nancy Baird is probably one of the most enthusiastic supporters and believers in public radio you'll ever meet. She has been a member of WKSU since April 1997 when she moved to Ohio from Pennsylvania, has served as chair of the station's Community Advisory Council for several years, and has even hosted events for the station in her home. According to Nancy, it was only natural for her to make a planned gift to WKSU that will be used to fill the station's greatest needs.
"The station depends on public support," says Nancy. "My gift, as well as those from many other like-minded folks, is a gift to all current and future listeners. The quality of news and regional information is dependent on the management and staff of WKSU. Over the years, I have known them all and they offer great skill and commitment, not only to the day-to-day job requirements, but to the bigger mission and vision of public radio."
With plans to retire in the spring from her job as an assistant professor of education and director of graduate programs at Notre Dame College, Nancy will probably still volunteer at WKSU. After all this time, she has come to think of the station's staff almost as family members. "As we leave assets to family members to support them in their life goals, I feel the need to support those outside the family too. WKSU is one of the closest outside-the-family circle that I can think of," she says.
Nancy sums up her deep admiration for public radio and her personal reasons for supporting it in this way - "If you listen to the station and learn from it; if you include a fact or perspective in your conversation with another; if you laugh at Wait, Wait, Don't Tell Me; if you are calmed by classical music; if you sing along with Folk Alley - then you should give back in equal measure, and at least become a sustaining member - even better if you can leave a more lasting plannedgift!"
If you'd like to learn how to create a bequest to help support WKSU, contact the Center for Gift and Estate Planning at 330-672-1000, or email us at giftplan@kent.edu.