Small Steps Add Up to Big Impact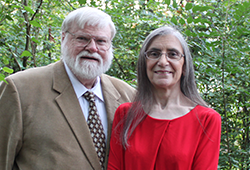 A faculty member at Kent State since 1995, David Kessler has had an insider's perspective on the unique needs of the university for many years. His wife, Audrey, also has been an active member of the community and an admirer of the music program at Kent State. The variety of passions they've pursued at the university led them to create four endowed planned gifts: a professorship and a speaker series in the new School of Peace and Conflict Studies, a professorship in forensics and a scholarship for oboe students.
David's two gifts to the School of Peace and Conflict Studies stemmed from the profound effect that the events of May 4th, 1970 had on him. "Kent has a unique message and perspective that other schools don't have," he says. "I saw a chance to contribute to that program and get the message out that there are better ways to deal with situations than with bullets."
David also saw a need for a more robust program in forensics. "Hopefully, unifying the different fields involved in forensics and helping develop those areas of study for students will help curb the high number of wrongful convictions, many of which have come to light in recent years because of developments in forensics, and improve the justice system."
Audrey's endowment to the School of Music was a result of oboe lessons she has taken for many years from Kent State Professor, Danna Sundet. "I saw that there was a funding issue in the school," Audrey says. "They didn't seem to have a lot of scholarship money to give and sometimes they lost good students because of it. I wanted to be able to give someone else a chance to pursue their musical career without being hindered by financial issues."
Both David and Audrey got their education at other schools and were solicited often for support, but it seemed to them that those schools were very well funded already, and that Kent State could use the resources more. They also believe that it's important for faculty and staff to lead the way in giving back so that others see the value of the programs available here. Says David, "If faculty and staff made planned gifts at the end of their careers it wouldn't take long for the university to develop a tremendous endowment. Given the number of faculty, the endowment would grow consistently into a pretty major piece of support."
Adds Audrey, "There are a lot of students at Kent State who are first generation and don't necessarily come from families that can afford a college education. It's important to reach out to those who otherwise would never have an opportunity. You give what you can and it all adds up," she says. "Each little bit helps it all to grow. One person can't do it all, but the biggest step is to just get started and let it grow from there."
You can make a difference in the future of Kent State students with a provision in your estate plan. Visit kentstatelegacy.org or call 330-672-1000 to learn how your deferred gift can help future students.