Couple's Scholarship Benefits Students Studying in Two Different Programs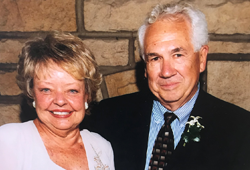 Judy and Joe Tirpak
Joe, B.S.B.A '59, M.B.A. '65 and Judy, '60, Tirpak are proud Kent State University alumni.
"We met and became engaged while at the university," Judy said, "so it has always held a special place in our hearts."
The Tirpaks have many wonderful memories of Kent State, and they wanted to honor those memories in a special way, by endowing a named scholarship. The problem was, they each graduated from different colleges within Kent State, and they wanted to have their award available to students from both.
The unique solution they arrived at, with the help of their advancement officer, was for the Joseph E. and Judith B. Tirpak Scholarship support students studying in both the College of Business Administration and the College of Education, Health and Human Services. In even years, the scholarship is awarded to a business student, and in odd number years, to an education student. Since they established the scholarship in 2001, 13 students have benefitted from the Tirpak's thoughtful gift.
"We wanted to do something to help the university and the students," said Joe. "It was tough for Judy and me when we were in college. Although our parents did help, I held down part-time jobs and contributed to my college costs."
Joe was the first member of his family to go to college, and Judy was the first in hers to graduate. Both enjoyed successful careers - Joe was an industrial engineer and later an independent business consultant. Judy was a teacher and the owner-operator of a local daycare center for 20 years.
"We're not wealthy, but we are comfortable. We feel we've been very blessed in our lives, and we really owe that to Kent State," Joe said.
The Tirpaks enjoy receiving correspondence from the students who have benefitted from their scholarship.
"We even met one recipient for lunch a few years ago. That was very special," said Judy.
"It's really wonderful to hear from the students and get their perspective on their careers, their goals and interests in life," added Joe. "We're very proud to be able to help them. It gives us a wonderful feeling."
Maintaining their scholarship has been an ongoing and rewarding endeavor for Joe and Judy.
"We've never made a big deal out of giving," Joe said. "We just quietly went about doing what we felt was meaningful to us."
You can make a difference in the future of Kent State students by endowing a scholarship. Visit kentstatelegacy.org or call 330-672-1000 to learn how your gift can help future students.