Rebecca Herr, '71, and Husband, Eric, Founded and Endowed the Undergraduate Nursing Study Abroad Fun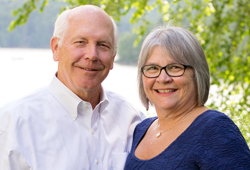 Eric and Rebecca Herr
"Although they can't be an expert at everything, they need to remain curious."
That is Rebecca Herr's advice for students, and her own sense of curiosity became a passion for adventure.
Her appreciation for exploration inspired her to begin mission work in India in 1999, where she has helped mentor nursing students in various clinical areas. Noticing the lack of nursing libraries while there, Rebecca began collecting nursing textbooks from professors and friends to donate to the students in India who needed them most.
Around the same time, Rebecca and her husband, Eric, also began making donations to the Kent State University College of Nursing Study Abroad program scholarship.
Rebecca is a proud alumna of Kent State, where she earned her B.N. in 1971. Eric studied economics, and is a retired business executive and economist. They gave when they were able, knowing that Kent State played an important role in nursing education.
Rebecca feels strongly that nursing students should expand their education outside of the classroom and look beyond Northeast Ohio.
"Becoming immersed in global health issues is essential for preparing students for an ever-changing healthcare profession," said Rebecca.
Because of her strong feelings about the issue, she and Eric also founded and endowed the Undergraduate Nursing Study Abroad Fund to secure an unwavering future for the program. This scholarship is open to any nursing student pursuing a Bachelor of Nursing degree who would like to participate in a Kent State approved Study Abroad program.
The College of Nursing's Study Abroad program provides opportunities for students to develop transcultural nursing skills and become culturally responsive nurses. Global experiences that students can choose to participate in include visits to Northern Ireland, Switzerland (Geneva), Africa, Canada, Japan, Tanzania and Italy. Their time abroad allows students to explore their role as nurses in the care of patients from multiple and diverse cultural groups and examine global, demographic and socioeconomic influences on healthcare.
If you'd like to learn how to create a fund to support a program or scholarship at Kent State, contact the Center for Gift and Estate Planning at 330-672-1000, or email us at giftplan@kent.edu.