Legacies Change Lives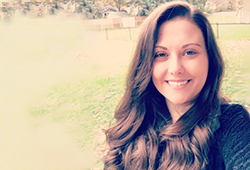 Tricia Reed
Second year graduate student Tricia Reed typically works 20 to 30 hours per week while also working on her M.Ed/Ed.S. in school psychology - a hectic schedule that leaves her little time for other activities. But, thanks to the E. Earline Long Endowed Scholarship in School Psychology, this past summer Tricia was able to take courses rather than work full time.
"My scholarship enabled me to take 10 credit hours over five weeks; working would have been impossible on top of my course work," Tricia said. "During most summers, I work as a server full time and also nanny when I can fit it in, which usually adds up to 50 to 60 hours a week. Mrs. Long's scholarship helped me to get closer to my educational goal and see my family much more than usual, which was really amazing. I am extremely grateful."
Giving back is very important to Tricia, because she knows firsthand what it is like to be in need.
"I know what it's like to not know where to turn. I am fortunate enough to have had a wonderful education thanks to many generous people who have helped me get to where I am," she said. "I would not be here without their help, and because of them I have chosen a career where I can truly give back to my community by serving children and families in my field of school psychology. My life goal is to be the person who I needed when I was younger, which in a way is really the best way to give back."
If you'd like to make a difference in the life of someone like Tricia with a provision in your estate plan, call us at 330-672-1000 to learn how.