I give back because others have given forward to me...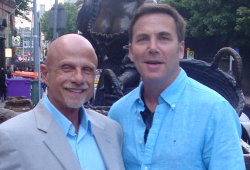 Tom Serwatka started his master's program at Kent State during the summer of 1970, a time of great social change. As a result, he says he enjoyed many life-affirming experiences during his time at the university while working toward both his master's and Ph.D. degrees in language disorders and deaf education.
"I was very fortunate to study with some very good, strong mentors that I greatly appreciated," says Tom. "I also began to see the importance of becoming more open about being gay, especially with my fellow students and in my own life."
Serwatka says he earned a great foundation in speech and deaf education as well as a bedrock in research, which helped him throughout his career. "I went from being pretty much a self-absorbed kid to looking outward at so many things that were interesting and challenging," he says. "It was a deep and broadening experience."
When Tom was asked to return to the university to speak at the Lavender Graduation in 2017, which honors the achievements of LGBTQ students, he says he was very comfortable. "I felt like yes, they're really doing this right." In part, this led Tom and his husband, Michael, to make an unrestricted planned gift to the LGBTQ Student Center on campus.
"It's important to me to give back because people have given forward to me," he says. "I've had so many blessings from people who stepped up to the plate and helped me during high school and college that made me feel very secure. I could count on these people when I was feeling lost and that I didn't belong. They taught me that I could be anything I wanted to be, and were incredibly good role models. I beat all the odds for those times, so why wouldn't I give back to a new generation?"
Lately, Tom has devoted his time to writing and being involved in a myriad of social justice issues. "I really believe in not just financial giving but supporting a generation of LGBTQ students who really need that right now. I don't think it's a big deal or anything, I think it's who we're supposed to be. I've had those blessings all my life, how could I not share them?"
If you'd like to learn how to support a program or scholarship at Kent State with a provision in your will, contact the Center for Gift and Estate Planning at 330-672-1000, or email us at giftplan@kent.edu.