Estate Gift Will Benefit Several Programs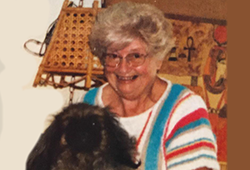 Two local educators who both earned their master's degrees at Kent State were so passionate about teaching, they paved the way for future generations of educators with an estate gift that funds three scholarships. Earline Long received her B.S. in 1954, and her master's in 1961. She enjoyed 33 years in Ohio's school systems, spending 25 years of her professional life in school psychology. She met her husband, Bill, a fellow teacher, while working at Silver Lake Elementary School in Cuyahoga Falls. They were married in 1956.

Bill was a talented percussionist, who enjoyed a long and illustrious career in music performance. He had a greater calling, however, and wanted to devote the rest of his life to teaching in order to bring his love of music to children. He graduated from Kent State in 1967 with a Master of Education degree, and went on to become an adjunct faculty member in music education and performance at Kent State and two other universities, all while teaching music in the public schools. He also played in local bands and orchestras.

Bill passed away in 1995. Several years before Earline's death in 2012, she met with Mindy Aleman of the Center for Gift and Estate Planning to set up three scholarships to be endowed through a very generous provision in her estate. She envisioned these scholarships making a difference in the lives of many future music and education students.

The William J. Long Endowed Scholarship in Music will support a junior, senior or graduate student pursuing a degree in instrumental music teaching, or a graduate percussion major planning to play in an orchestra or theatre environment.

The William J. and Earline Long Scholarship in Education will fund a student from Stow or Cuyahoga Falls High School planning to attend Kent State in education, or a special needs student majoring in education, or a student majoring in special education or a comparable program.

The E. Earline Long Endowed Scholarship in School Psychology will support a graduate student working toward a degree as an educational specialist with the goal of working directly with children as a school psychologist.

Earline credited hers and Bill's education at Kent State with providing the sound foundation for their career paths, which helped hundreds of families and educators throughout the state. Her decision to "pay it forward" will help even more pursue their dreams as well as leave a lasting legacy for them both.

"The generous bequest made by Mrs. Long will bring life-changing support to hardworking music majors who plan to teach or perform," says Ralph Lorenz, acting director of the Hugh A. Glauser School of Music. "Her gift will make a difference in helping our students pursue their passions for sharing music with the community."

Adds Dr. Frank Sansosti, school psychology coordinator at the College of Education, Health and Human Services, "Thanks to Mrs. Long's generosity, a student in the School Psychology program will be inspired to continue her pioneering work in parent-teacher relations and preventions. We are truly humbled by such graciousness, as will all of the student awardees from this point forward."